Updated 6th printing now shipping!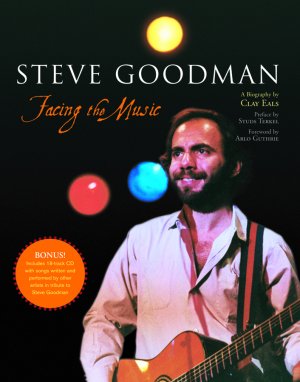 Steve Goodman photo by Gina Jett
What would life be like with death hanging over our heads? Most of us push the prospect aside until the end of our days. Not Steve Goodman.
Diagnosed with a fatal disease at age 20, he managed to survive and thrive to write an anthem of his generation and become what many considered the most galvanizing entertainer of his time. What lessons did he learn and share with others while privately, then publicly, fending off leukemia for more than 15 years? The answers lie in "Steve Goodman: Facing the Music."
The biography, released in 2020 in an updated fifth printing, is the comprehensive, untold story of a young man whose hilarious, touching and provocative music — "City of New Orleans," "You Never Even Call Me by My Name," "Banana Republics," "A Dying Cub Fan's Last Request," "Go, Cubs, Go" and many more stellar songs — uplifted millions from the late 1960s to the early 1980s and continues to do so today.
The book features fresh interviews with more than 1,100 sources, including Arlo Guthrie, John Prine, Steve Martin, Jimmy Buffett, Kris Kristofferson, Bonnie Raitt, Jackson Browne, Willie Nelson, Emmylou Harris, Randy Newman, Paul Anka, David Allan Coe, Judy Collins, Tom Paxton, Pete Seeger, John Sebastian, Leo Kottke, Gordon Lightfoot and Goodman's high-school classmate Hillary Rodham Clinton. Other interviewees include John Hartford, Phoebe Snow, Jackie DeShannon, Marty Stuart, Maria Muldaur, Studs Terkel, Mimi Fariña, Tom Rush, Bobby Bare, Carly Simon, Lily Tomlin, Michael Smith, Fred & Ed Holstein, Janis Ian, Bryan Bowers, Martin Mull, Chad Mitchell, Rosanne Cash, David Amram, Samantha Eggar, Tom Dundee, John McEuen, Jimmy Ibbotson, Jeff Hanna, Howard Armstrong, Jim Post, Carl Reiner, Doc Watson, Loudon Wainwright III, Jo Mapes, Len Chandler, Buzzy Linhart and David Geffen.
Included with the book, only if ordered from this website, is a CD of 18 songs written after Steve's death that pay tribute to him or mention him significantly, and one track of interview clips with Steve himself. (The same tracks are available as a free download at the publisher's website: ECW Press.)
The book's sixth printing includes myriad minor text fixes, 23 new or augmented footnotes and 8 new or replaced photos (overall total: 649 photos), all in the same 800 pages.
"Steve Goodman: Facing the Music" was published by ECW Press in mid-May 2007, with updated printings in 2008, 2012, 2016, 2020 and 2021. The sixth (latest) printing, released in late 2021, can be purchased at list price, and the fifth printing, released in late 2020, can be purchased at a discount from list price at this website on the Online Store page.